In what type of work does Michael Wood & Co. specialize?
---
From consulting to complete renovations from the ground up, we offer a range of interior design and architectural services depending on your needs and your scope of work. We specialize in full-service projects where we're involved at every step — right up until you move into your new space. We document the design for both contractor pricing and building/municipal approvals and oversee the entire construction process. We work with you from concept and planning through to final completion — including art and décor — to make everything a white-glove experience.
---
What are the typical phases of the design and construction process?
---
The phases will vary depending on your needs. The typical phases are: survey of existing conditions, programming, issuance of schematic design options (floor plans), design development, documentation, bidding and bid analysis, and finally construction, followed by punch list and project close-out. Many of our clients engage with us pre-purchase so we can verify that the changes they have in mind are feasible and code compliant. While the phases are generally sequential, there is often overlap, particularly in the design and documentation phases where your scope of work is being developed and refined.
---
How is a contractor selected for my project?
---
We've been fortunate to work with some of the most talented general contractors (GC) over the years — quality professionals who can handle a wide range of project types and whom we have previously qualified. We often have GCs referred to us, in which case they are thoroughly vetted to ensure they meet our high standards. We've grown in part by developing relationships with new GCs and craftspersons, and will work with any viable candidate once they have been qualified.
---
What is the difference between contractor bidding and a negotiated contract?
---
Some clients prefer a bidding process where a shortlist of qualified GCs submit competitive pricing proposals based on the documents we produce. These documents are critical to convey the design intent and instruct the contractor about the 'what' and 'how' of your project's scope of work. A bidding process, whereby we negotiate all terms on your behalf, can take a couple of weeks to a month or more depending upon your project's complexity, number of bidders, and scope of work. Other clients prefer to eliminate the bidding phase in order to save time. In this case, based on your budget, their level of expertise and historical cost data, a GC is usually identified during the design and documentation phases to begin estimating the project's costs. Once the design and documents are completed, the GC will finalize his pricing and the client is able to move into the construction phase more rapidly.
---
How long will my project take to complete?
---
This will depend on your scope of work and your location in the tri-state area. The renovation of your bathroom and kitchen can take up to 4-6 months from concept to completion of construction, whereas a gut demolition and renovation of an apartment or house can range from 6-12 months or more depending on the size and complexity of your project.
---
How much will my project cost (estimate vs. actual)?
---
Cost is most often the biggest unknown for any project. While we do track cost data for a range of project types, it is difficult to accurately estimate a project until we develop the scope and understand your expectations for finish and quality. The best way to avoid cost overruns is to issue a comprehensive set of construction drawings so that important details are captured, leaving little room for the GC to find opportunities for change orders. Diligent jobsite overviews are equally important to ensure quality workmanship and to keep everyone informed on the project's progress.
---
What input will I have into design and planning?
---
Your Input is the key to any successful project. Through regularly scheduled meetings, email and text correspondence you will have ample opportunity to share your ideas and questions throughout the process.
We provide floor plans, elevations and renderings as required to help you envision your space and make Informed decisions.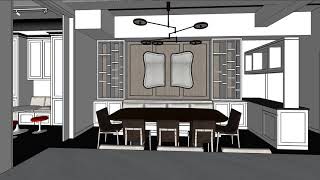 ---
What happens after I approve a floor plan?
---
Upon your approval and once we have a signed-off floor plan, we move into the development phase of the project including more advanced design drawings (elevations and sections) followed by the issuance of a comprehensive drawing set to ensure accurate bid pricing. Completion of each subsequent phase will require your review and approval prior to advancing further phases of work.
---
Will DOB building permits be required?
---
This will depend upon the complexity of your project and your building's policies. If the scope is limited to cosmetic renovations and upgrades, or modest changes to fixtures and fittings, generally you will not require local building department approval and permits. On the other hand, if your project includes significant demolition and reconfiguration, building department approval and permits are often required. Although often subjective, most condos and co-ops supply "Alteration Agreements" that explain each building's position on filing for permits, insurance requirements, fees, etc.
---
Is there a warranty on the project work completed?
---
Warranties for work completed on your project are offered through two sources: individual manufacturers of products and materials installed on your project, and through the general contractor for the performance of workmanship. Manufacturer warranties will vary depending on the product, while a well-qualified contractor will generally guarantee their workmanship for a period of one year after occupancy. But like manufacturer warranties, a contractor's warranty can vary depending on the GC and scope of work.
---
What do you mean by "consulting services"?
---
We often act as an advisor for clients who have a short list of properties they are considering but aren't sure if the modifications they have in mind are viable. We also work with clients that prefer to oversee their own projects in which case we'll vet your GC and architect, and review your designs and contracts to see if there are any glaring errors or pitfalls. We may suggest inserting additional language in the contract to protect you and ensure it works in your favor. This can help protect you by legally vetted industry standards in the event there are cost or time overruns . On an as needed basis, we're at your service throughout the progress of your renovation until completion, ensuring you have an advocate at every step of the way.
---
What areas do you service?
---
We're New Yorkers that are specialists in New York area renovations, including apartments, townhouses, and other residential properties. We've also worked on a number of projects in the Hamptons and New Jersey.
---
What do you charge for your services?
---
Fixed fees range anywhere from 20-35% of total project costs depending the complexity of your project. Hourly fees apply to circumstances that are beyond our control, such as substantial changes in scope due to discovered site conditions, owner-requested revisions after phase sign-offs, etc. Full terms and conditions are outlined in our service agreements that are tailored to the unique requirements of your project.
---
Should I move out during a renovation?
---
That depends on the complexity of your project but for a typical renovation we always recommend that our clients make arrangements to stay outside the home. It enables us to maintain the schedule and ensure the highest levels of safety and comfort for our clients.
---
---